Andy Murray joked he needs a check-up as he has "started imagining things" after Fernando Verdasco denied he spoke to his coach during the heat break in their US Open second-round tie.
Players are not allowed to be coached during breaks for extreme heat.
Murray reported Verdasco, who won in four sets, but the Spaniard said: "I don't want to say that Andy lied but I didn't talk one word with my coach."
Murray later posted a response using the hashtag #liarliarpantsonfire.
Writing on Instagram, the former world number one thanked fans for their support and joked: "I'm off to get a health check as apparently I've started imagining things."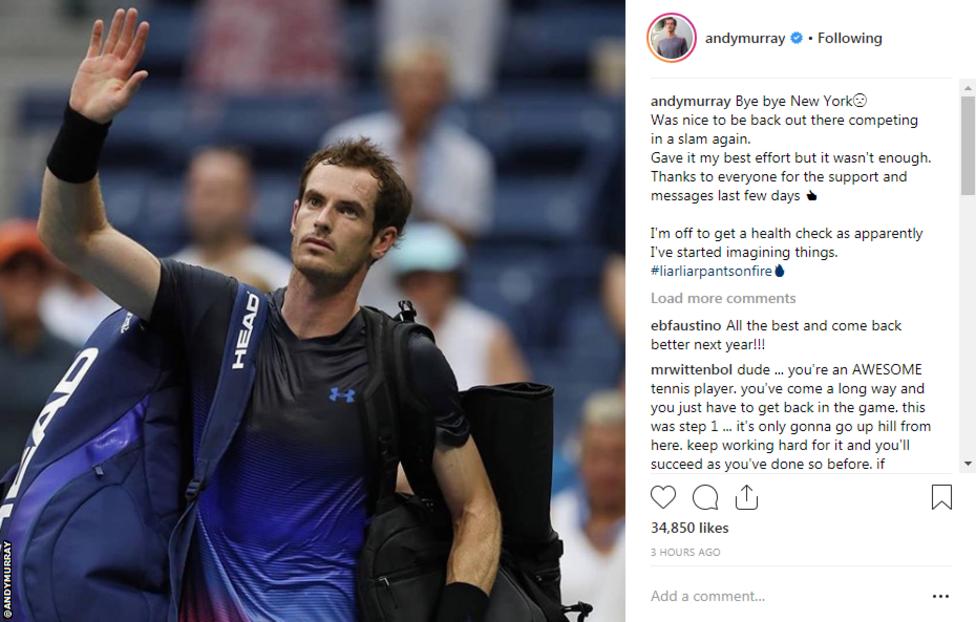 It's normal to have doubts over my tennis future – Murray
Murray beaten in US Open second round
Earlier, following his 7-5 2-6 6-4 6-4 defeat, Murray had said Verdasco and his coaching team "probably weren't aware of the rule" about heat breaks.
"When I came out of the shower, his coach and one of the Spanish doubles players were in there chatting to him, and you're not allowed to speak to your coach," said Murray.
"I'm not blaming Fernando and his team. They certainly weren't trying to break any rules.
"It shouldn't be for the player that's competing against him to have to go to the supervisor."
Both players left the Arthur Ashe court at the end of the third set after Verdasco took up the 10-minute extreme heat break with temperatures rising close to 100F (38C).
However, the 34-year-old denied Murray's claim, saying his coach was only in the locker room to go to the toilet.
"I was in the ice bath with Marcos Baghdatis and his coach," Verdasco said.
"I know exactly the rule and I don't want to be the one breaking it."
Bbc.com