England cricketer Ben Stokes was the "main aggressor" in a fight outside a nightclub, a court has heard.
The Durham all-rounder is one of three men accused of fighting in Bristol on 25 September.
Bristol Crown Court previously heard Ryan Ali, 28, and Ryan Hale, 27, were knocked unconscious by 27-year-old Mr Stokes, who denies affray.
Mr Ali and Mr Hale have also pleaded not guilty to affray and are on trial alongside the cricketer.
Witness Mark Spure, an off-duty police community support officer (PCSO), said that after he left Mbargo nightclub he spotted "three to five" people involved in a "scuffle" on a nearby street.
In a statement, Mr Spure said he had tried to separate Mr Stokes and Mr Ali, with the others continuing their behaviour behind him.
"The individual seemed to be the main aggressor or was progressing forward trying to get to another individual," he told the court.
"In my statement I describe him as a gentleman with ginger or light brown hair. He had a green t-shirt on."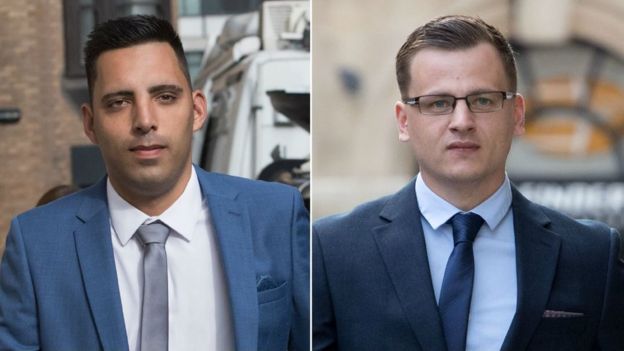 Mr Ali "seemed to be trying to back away or get away from the situation" before he was punched by Mr Stokes, he added.
Mr Spure told the court he had tried to move Mr Ali out of the road, as there were passing cars, but he was "completely unable to move".
The jury heard he then identified Mr Stokes to police officers, who arrested the cricketer.
Mr Stokes first hit Mr Hale, knocking him to the ground, before rendering Mr Ali unconscious in the punch seen by the PCSO, jurors have been told.
Mr Ali is alleged to have threatened Mr Stokes' England teammate Alex Hales with a bottle during the altercation, while Mr Hale broke off a metal pole from a nearby road sign after being allegedly knocked out by Mr Stokes.
'Squaring up'
The jury heard Mr Ali had suffered a fractured left eye socket, a cracked tooth and cuts and bruises, while Mr Hale suffered bruising and a cut to his forehead.
Footage from a body camera worn by PC Stacey Alway, who arrested Mr Stokes, was shown to the jury.
She told the court the cricketer had been "squaring up" to a group of men at the side of the road as she approached them.
"I didn't know who these males were because I was unable to identify them," PC Alway said.
"From the moment I approached [Mr Stokes] he calmed down and he was completely compliant with me."
The court heard that when PC Alway said to Mr Stokes "a guy over there was covered in blood and I've been told you punched him", he replied "because he was abusing my two friends for being gay".
Nottinghamshire batsman Mr Hales told PC Alway he had not seen the alleged fight, the court was told.
"I came after you guys turned up," he told her.
After Mr Stokes had been put in a police car and PC Alway told Mr Hales to leave, he replied: "I feel bad. He's my best friend. I saw him after everything happened."
Mr Stokes, of Castle Eden, Durham; Mr Ali, of Bristol; and Mr Hale, of Westbury-on-Trym, Bristol, all deny a joint charge of affray.
The trial continues.
https://www.bbc.com