Lewis Hamilton and Sebastian Vettel both made telling comments after finishing first and second in Sunday's Hungarian Grand Prix.
Mercedes driver Hamilton, fresh from a dominant victory that was far less nervy than expected before the race, was likening the 24-point championship lead he is taking into the summer break to a «dream».
Sitting next to him in the post-race news conference, Vettel admitted: «Obviously something did not go as we planned.»
The Ferrari driver was talking about the specific details of his race but he might just as well have been talking about the way the momentum of the championship has turned against him at a time it really ought to have moved his way.
On current performance, Vettel should to be going into the four-week gap before the Belgian Grand Prix leading the championship. That he isn't must surely be a cause for concern at Maranello, even if the German was not admitting it after the race.
This time last year, Vettel had a 14-point lead, and still contrived to lose the championship after Ferrari's season unravelled in the Asian races that are still to come this season.
Now, he is nearly a clear win adrift of Hamilton in their private battle to become the first driver of their generation to win a fifth world championship.
How did Hamilton end up in this position?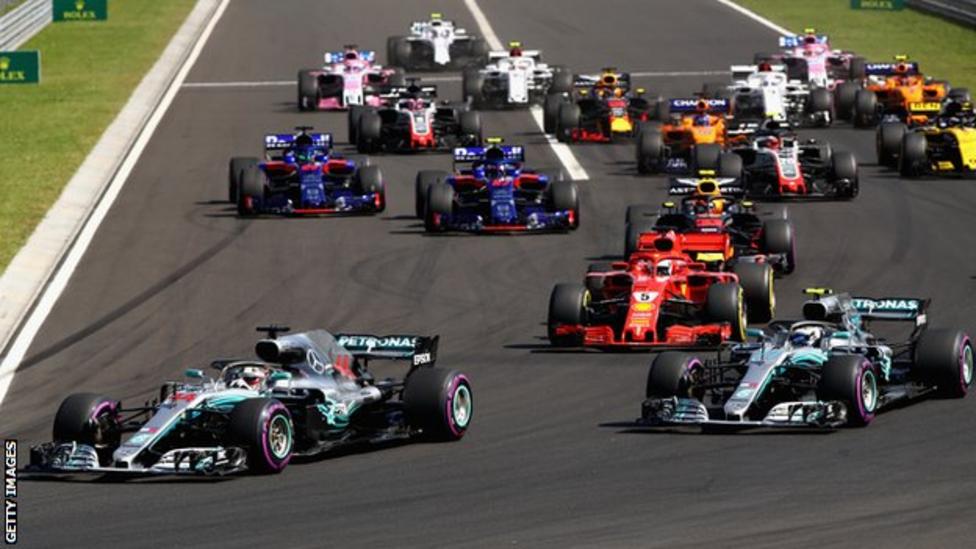 Vettel, Ferrari, Hamilton and Mercedes arrived in Hungary all thinking this was a race the Scuderia would win.
But the rain in qualifying turned events in Hamilton's favour. He and Valtteri Bottas locked out the front row of the grid; the Ferraris, struggling with a lack of tyre temperature in the wet conditions, behind them.
Overtaking is notoriously difficult at the Hungaroring but, even so, the concern at Mercedes before the race was how to prevent Vettel from beating them even from fourth, so much faster did they believe the Ferrari was in the hot, dry conditions.
They chose to start on ultra-soft tyres to maximise the grip off the line and minimise the chances of being jumped by the Ferraris, always quick starters, on the run to the first corner. Ferrari, as they expected, went for the more durable soft tyres for Vettel and decided to run long before their first stop and attack Hamilton at the end.
For a while, it looked as if it might be going Ferrari's way. Hamilton was setting impressive lap times at the front, pulling a 6.5-second gap to Bottas behind him in 14 laps. Then Ferrari tried to set their trap.
They pitted Vettel's team-mate Kimi Raikkonen; Mercedes felt they had to respond with Bottas, and now Vettel was second behind Hamilton.
But rather than Hamilton's ultra-softs dropping away as might have been expected, his lap times stayed good and he was able to extend his first stint to lap 24 before stopping.
Did Ferrari get it wrong?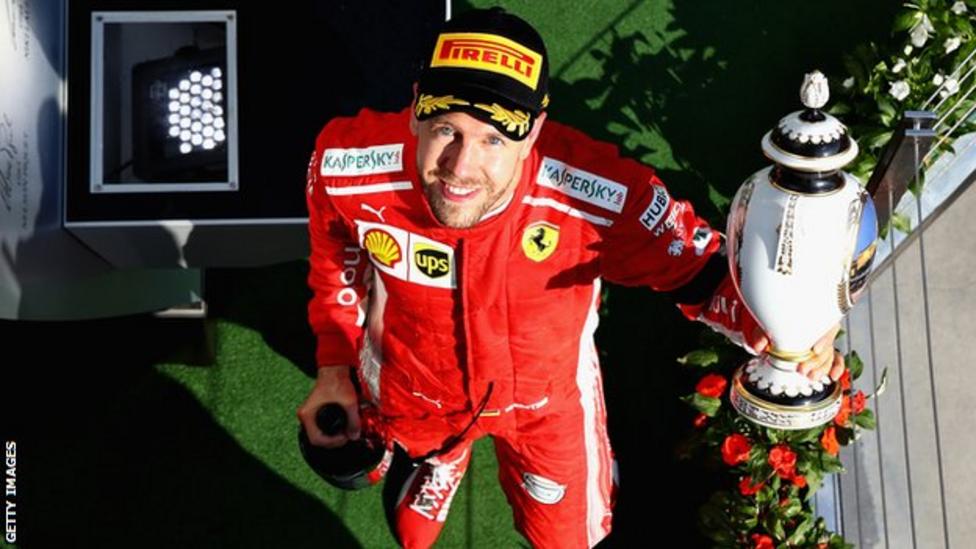 Vettel was now in the lead and the plan was to pit, rejoin still ahead of Bottas, and attack Hamilton from a deficit of about 10 seconds with about 30 laps to go. It would have been close.
From lap 29, Vettel had enough of an advantage to pit and get back out in second, but Ferrari waited. And waited.
By lap 35, he was still 25 seconds in front – five more than he needed. But then he hit traffic, and began to lose time.
By the time Vettel pitted on lap 39, partly also thanks to Bottas upping his pace significantly, the gap was down to less than 21 seconds – very marginal. So marginal that any problem in the pit stop would cost Vettel position. And sure enough, the left front would not go on smoothly, and Vettel rejoined the track as Bottas blasted past.
So from hoping to attack Hamilton, Vettel was now faced with trying to pass the Briton's team-mate.
Had Ferrari messed up?
«It was good we were faster and could pull a gap to Valtteri,» Vettel said. «Then, it is difficult to foresee the traffic and knowing how well you go through it or not. In that case, I lost quite a lot.
«Looking back at the race, Lewis' stint in the first part with the ultra showed the ultra was a lot stronger than on Friday and what we expected.
«So you sort of know but you don't know because, Lewis' information, they don't call us and say: 'Our tyres still look good, you can come in earlier.' That's not how it works.
«And the worst that can happen is you fit the tyres, you gain a position and they fall apart at the end. You don't want to do that.
«I think what we did was OK but as it turned out with the circumstances we lost out and we came out behind. Surely it didn't help.
«Without that it would have been a much more relaxed last part of the race, probably hunting down Lewis. But with the gap he had, it would have been difficult to catch and then it is a different story to overtake especially around here
«I think we could have the catching bit but not really the overtake. It doesn't change much the final result; it was just a bit more work than coming out ahead.»
Mercedes F1 boss Toto Wolff was not so sure. «I think he would have made it to Lewis and the outcome could have been a different one,» he said.
Things not going Ferrari's way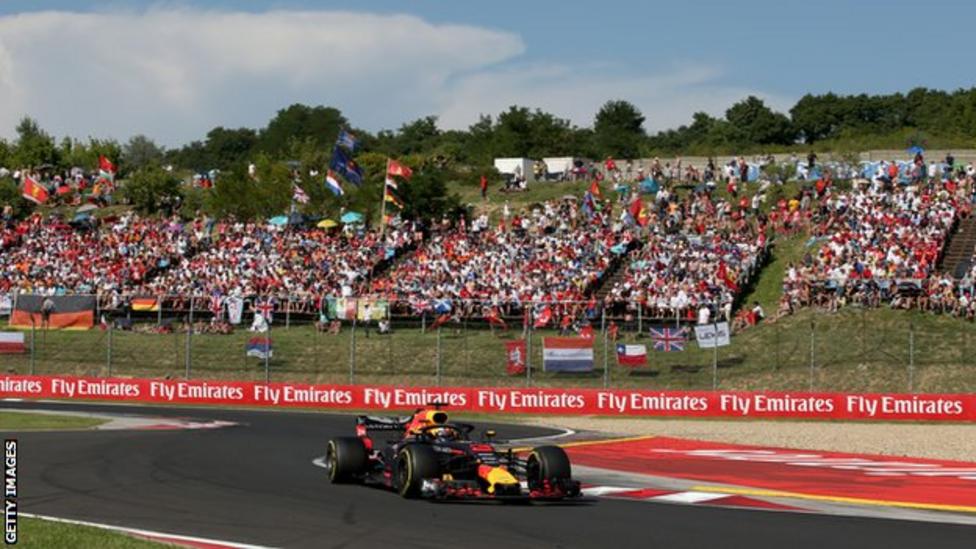 It was the second time in seven days that events had turned against Vettel and Ferrari, after he crashed out in the wet while leading in Germany. It was, as Vettel said, a small mistake with big consequences.
Vettel won the race before that in Silverstone after a slow start by Hamilton. And while he was on the podium in Austria, it was a race he would have won – after Mercedes' double retirement – but for a three-place grid penalty for blocking in qualifying.
All this at a time when Ferrari have made a decisive step forward in engine performance that has got tongues wagging in the paddock and caused concern at Mercedes that they are now definitively fighting a faster car.
Vettel said he was not concerned, either by his championship position or by comparisons with last year.
«Consistency is the key,» he said. «Scoring points. I did not do myself a favour last week but it is part of racing, so stuff happens.
«But compared to last year we lost the championship because our car was not quick enough be a match in the final part of the season, despite what happened with the DNFs.
«I think this year showed so far our car is more efficient and stronger and still has a lot of potential to unleash. So I am quite confident with what is sitting in the pipeline we can improve and so it should be an exciting second half of the year.»
Hamilton buoyed by wins against the form book
Hamilton, unsurprisingly, is also confident.
«Last year, maybe we felt we were a little bit stronger than compared to this year,» he said.
«We all know this year that Ferrari do have the upper hand pace-wise, but all-round performance-wise and in terms of strategy – because a title is not all about speed, it is about strategy calls, mistakes, management – I think up to now we have done a slightly better job.
«We have work to do and performance to bring, but we have to keep rising all the other elements that allow us to beat the Ferraris when they don't bring their 'A' game.
«I'm really happy going into the break, particularly with back-to-back wins. That boost will last a long time for our team; it is encouraging for everyone.
«I am excited for the break. Everyone has worked so hard. It will be good to spend time with family and friends, back off.
«The second half of the season is always intense but the second half is usually when it gets a bit better on our side so we will go away and prepare and make sure we come back stronger.»
What was going on with Bottas?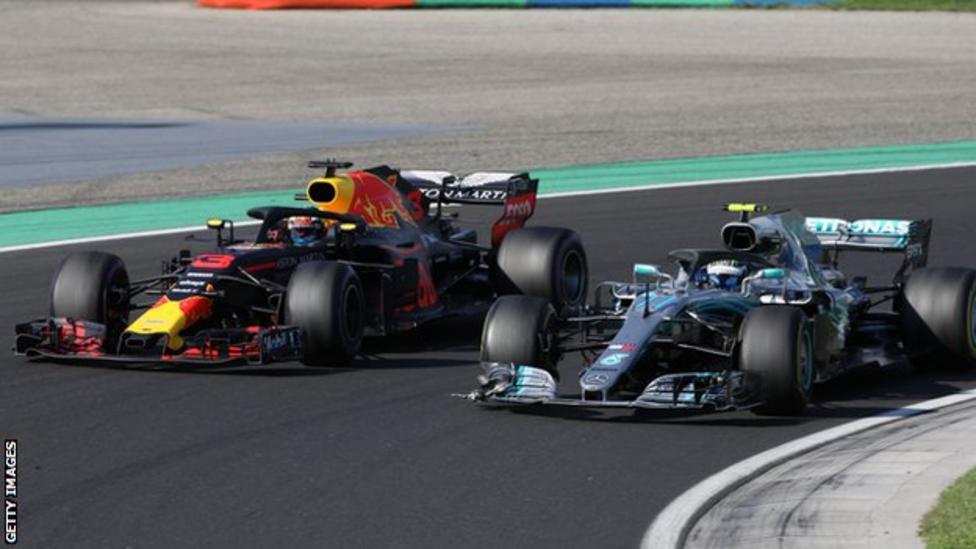 After the race, there was a brief controversy about some comments Wolff made on Sky TV, describing Bottas as «a sensational wingman».
Bottas, who only a week ago was ordered to back off and not try to fight Hamilton in the closing stages at Hockenheim, said that description «hurt».
Wolff later clarified what he meant, saying: «That is exactly why things that are not being discussed face-to-face are being spun out of control in the wrong way. Starting P2, Valtteri's race was the perfect wingman's race and I don't mean in championship terms, because we have no number one and no number two.
«It was, from my standpoint, the best race from Valtteri for Mercedes the last three years.
«He would have deserved to finish P2. Maybe the word wingman does not do him justice. He just drove a sensational race and helped Lewis in a way to build a lead but Lewis drove a faultless spectacular race as well.»
Bottas' pace in the first stint kept the Ferraris at bay, and in the second he fended off Vettel for 25 laps before colliding with the Ferrari after being passed, and also hitting Red Bull's Daniel Ricciardo as the Australian was overtaking.
«I was disappointed with my end result and saw everything in a negative way for a moment,» Bottas said later.
«I know what he [Wolff] meant. He would have said the same about Lewis if he'd been in the same situation. We are on equal terms and I trust that 100% on that. All good.»
Wingman or not, this is unlikely to be the last time he ends up driving to help Hamilton over the remaining nine races.
Bottas is 81 points behind and realistically out of the title fight. That's between Hamilton and Vettel.
It's turning into a classic and, Ferrari advantage or not, the way things are going at the moment, Hamilton is going to take some beating.
https://www.bbc.com

cript async src="https://pagead2.googlesyndication.com/pagead/js/adsbygoogle.js">