A US police officer has quit amid an inquiry into his response to a woman who was racially harassed while wearing a Puerto Rican flag shirt .
Mobile video shows the officer, Patrick Connor, appearing to ignore the woman's pleas that he intervene as a white man repeatedly jabs his finger at her.
«Officer, I feel highly threatened,» she says, as Mr Connor turns his back and walks towards his patrol car.
The incident took place last month in a public park in the Chicago suburbs.
The Forest Preserve District of Cook County Police Department – where Mr Connor worked for 12 years – announced that he had resigned on Wednesday.
«But that isn't where our work ends,» they said in a statement, adding: «We are further addressing aspects of this incident.»
In an earlier statement, the police said that an investigation had been launched and the officer had been placed on desk duty.
The viral video clip shows Mia Irizarry, 24, setting up her picnic when a white man approaches and demands to know why she is wearing her shirt, which had «Puerto Rico» written on it.
Hispanic woman berated as US cop looks on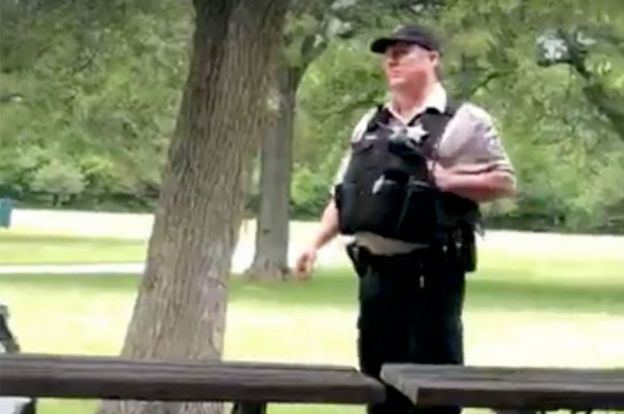 «You should not be wearing that in the United States of America,» the man, identified as 62-year-old Timothy Trybus shouts.
«Are you a citizen? Are you a United States citizen?»
Ms Irizarry asks a park police officer who has arrived for help, saying: «I am renting this area and he's harassing me about the shirt that I'm wearing.»
But the policeman does nothing.
She says: «Officer, I'm renting, I paid for a permit for this area.»
«I do not feel comfortable with him here, is there anything you can do?»
But the officer walks away.
Coming closer, the man says: «You're not gonna change us, you know that?»
«OK, OK,» Ms Irizarry says, trying to placate him.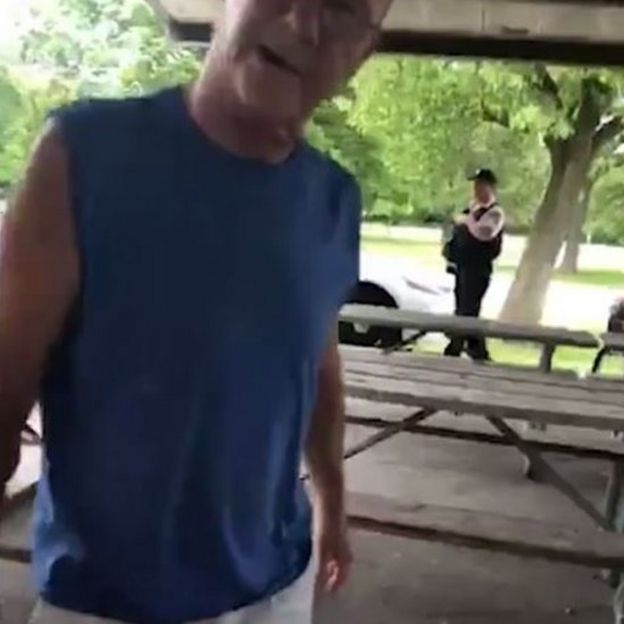 Mr Trybus continued to harangue Ms Irizarry for about 10 minutes before other officers arrived and arrested him.
He has been charged with disorderly conduct and assault.
«That officer did absolutely nothing – he did absolutely zero,» Ms Irizarry said in her 36-minute long Facebook live broadcast.
The video had angered public officials including the governor of Puerto Rico.
The island of Puerto Rico is a US territory.
«I am appalled, shocked and disturbed by the officer's behaviour,» Gov Ricardo Rosselló said on Twitter.
«He failed to de-escalate the situation and therefore did not ensure a citizen's safety.»
Nearly half of Americans are unaware that Puerto Ricans are United States citizens, according to polling taken after the island was rocked by a hurricane last September.
https://www.bbc.com

cript async src="https://pagead2.googlesyndication.com/pagead/js/adsbygoogle.js">