Ecuador's capital was thronged with angry crowds on Thursday for protests against the government's attempts to extradite ex-president Rafael Correa from Belgium. Correa is accused of a failed kidnapping, but denies any wrongdoing.
Ecuadorian Judge Daniella Camacho ordered the arrest of the three-term president on Tuesday over his alleged involvement in the 2012 abduction of a political opponent. The judge requested that Interpol apprehend him for extradition.
Correa, who now lives in Belgium with his wife, said the allegations were politically motivated and "tremendously ridiculous."
"That is called lawfare, you know," Correa told RT. "They can't defeat us in elections, so they try to defeat us using the judicial system. We have to stop that because this is not democracy."
On Thursday, crowds marched towards President Lenin Moreno's office at Quito's Plaza Grande, carrying signs that read "No neoliberalism" and chanting "A united community will never be beaten," reported Telesur. Some protesters held portraits of leftist Latin American leaders like Dilma Rousseff, Hugo Chavez and Evo Morales.
Before they could reach Moreno's office, the protesters were blocked by a wall of riot police, who used fire extinguishers to pacify the crowds.
Correa is accused of involvement in the 2012 attempted kidnapping of Fernando Balda, a former opposition leader. Balda claims that five people tried to kidnap him in the Colombian capital of Bogota on Correa's orders. Correa vehemently denies the charges.
Balda himself was charged with conspiring to overthrow Correa in 2010, and was sentenced to a year in jail for threatening state security. Unsurprisingly, he has joined the Ecuadorian government in calling for Correa's arrest, describing him as "a fugitive from justice."
"They won't prove anything, because there is nothing," Correa said on Twitter. He added that he doesn't believe Belgium will comply with the extradition request, which he described as a "monstrosity" that "will NEVER prosper in a State of Law like Belgium."
The ex-president's lawyer, Caupolican Ochoa, said: "This decision is arbitrary, it is a lie, it is defamatory. I do not believe they are seeking justice but rather revenge."
Moreno and Correa were once allies, but split publicly after Moreno's election in May last year, when the new president held a successful referendum on introducing presidential term limits, barring Correa from re-election in 2021. Correa branded Moreno a "traitor," and "a wolf in sheep's clothing."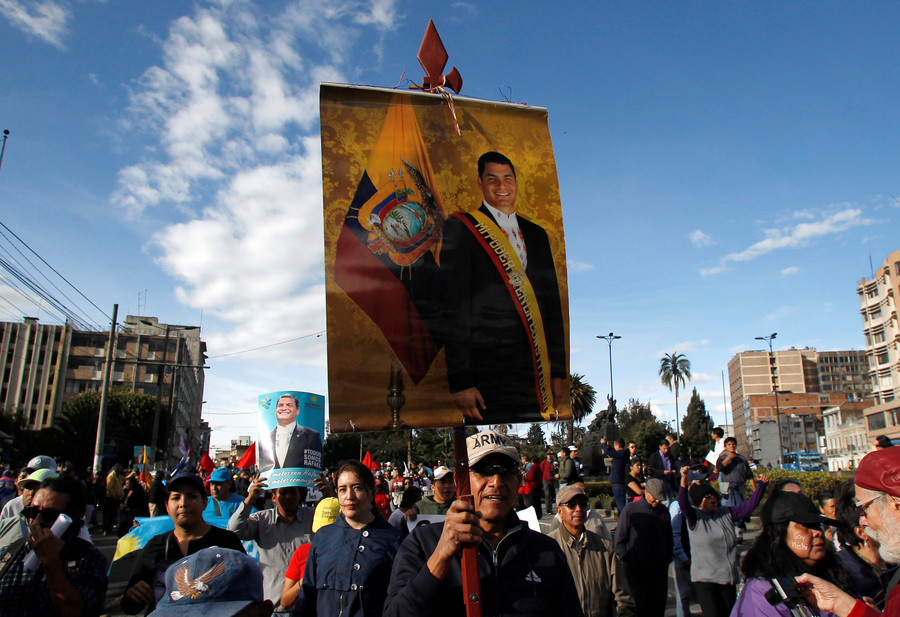 Correa and his left-wing supporters accuse Moreno of selling out to corporate interests, and of shifting Ecuador's independent foreign policy to suit American interests. Correa's government granted asylum to WikiLeaks founder Julian Assange in 2012, but Moreno has taken a tougher stance, calling Assange "more than a nuisance" and a "hacker."
After a visit from US Vice-President Mike Pence last week, Ecuador's new Foreign Minister signalled this shift in attitude when he announced on Twitter that "Mr Assange must come to an agreement with UK authorities."
https://www.rt.com