Jose Mourinho has taken time out from his busy World Cup schedule to visit Russian youngsters hoping to hit the big time and possibly even play under the managerial great in the future.
Mourinho, who is working as a special RT guest host for the World Cup this summer, met youngsters from a football academy in the Taraskova area near Moscow to pass on advice on what it takes to play at the very top of the game.
Ahead of the visit, the youngsters, all of whom are aged 11-13, spoke of what it meant to be meeting the two-time Champions League winner Mourinho.
One youngster described him as "a great coach," while another praised him as master tactician who "thinks the command structure through very well."
"He's very disciplined," said another, while one said he wanted to "learn the tactics and feeling of the game from him."
Another aspiring footballer simply wanted to "meet him and shake his hand."
The youngsters got their wish when Mourinho arrived at their training base to cast his eye over a practice session.
"I was told you are the good talents, that you are the kids with the good potential, so I come to give a look," Mourinho told the excited youngsters.
"Your coach is here, so I stay outside, I'm looking at you with all my attention, but don't feel any pressure, just feel happy and free, OK."
Mourinho watched from the sidelines as the young footballers performed various drills, including passing and dribbling.
Afterwards, he dispensed some advice on the attitude professional footballers need, but also on the specifics of what makes a top pro – including the all-important first touch.
"One thing is like this…," Mourinho said, showing an ambling movement over the ball, "and another thing is to pass the ball with the right speed, and control."
The Manchester United boss demonstrated the right body position for receiving the ball, emphasising that good control is essential to keeping the game moving at a fast pace.
"He passes me the ball, if I control the ball here stationary, it's one thing, and then I need another touch, and I need one more second – another thing is he passes me the ball, and with my control, my good control, I can give immediately speed to the game," Mourinho added.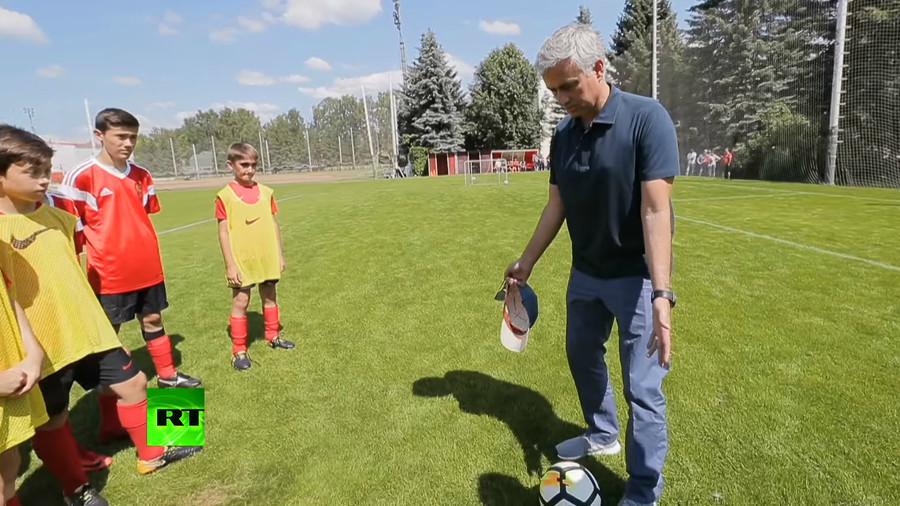 "So little things, little details, makes the game much, much better," the Portuguese said.
He then cited one player as an example that the youngsters were bound to know well – CSKA Moscow and Russia midfielder Aleksandr Golovin.
Golovin, 22, has emerged his country's great young hope, and is coveted by some of Europe's top clubs, including Italian giants Juventus and English side Arsenal.
The midfielder has starred in his county's impressive World Cup start, scoring with a stunning free-kick in the win against Saudi Arabia and generally being the focal point through which the team's attacks flow.
"If they look for example to Golovin, if they look to him, the first touch, the first control, the speed of the pass, always correct," Mourinho said, perhaps fuelling rumors that Manchester United could even be among the player's suitors.
Read more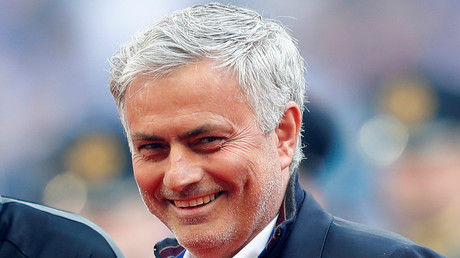 'It was one where I gave everything': Jose Mourinho reveals the best team talk he's ever given
The Portuguese manager was also full of praise for the young players he saw on display in Taraskova, signalling that the future could be a bright one for Russia.
"I'm positively surprised with what I see," Mourinho said. "What I see in this little session I also see in my players, in professional players, which is they enjoy more the period where they are playing, than the period where they have other practice, but this is as important as the exercises that they can do outside the little game," Mourinho said.
The eager youngsters then took their chance to ask Mourinho questions themselves – sometimes catching the Portuguese off-guard.
When asked what was behind his success as a serial winner who has a string of honors to his name, including two Champions League titles and league wins in England, Spain, Portugal and Italy, Mourinho answered: "The secret is what I was asking you – football is to enjoy, but at the same time, if you want really to reach a certain level, it has to be a serious thing.
"Every minute of the day where I am working with my players, I take it very, very seriously. Always with a smile, happy to do something that I really like to do, but always with a great focus, and with a great ambition. Have fun, but every minute you are on the pitch, take it seriously."
One cheeky youngster then asked him to pick a favorite player from Manchester United.
"If I answer you, the other ones will go away!" Mourinho joked.
"It's like when you are a father and you have more than one son. Which one is the favorite son? I have a son and a daughter, I cannot say which one is my favorite. Both are my favorite."
The Special One was then asked to describe what makes English football different to the Russian version.
"I think in England one of the secrets is the competitiveness of the league, every club has probably 18-20 pitches like this, only for the academies," Mourinho replied.
Mourinho has managed some of football's greatest ever talent, including five-time Ballon d'Or winner Cristiano Ronaldo.
The managerial great said that the World Cup will leave an important legacy for Russia, and could see a new generation come through that gives the national team a shot at glory.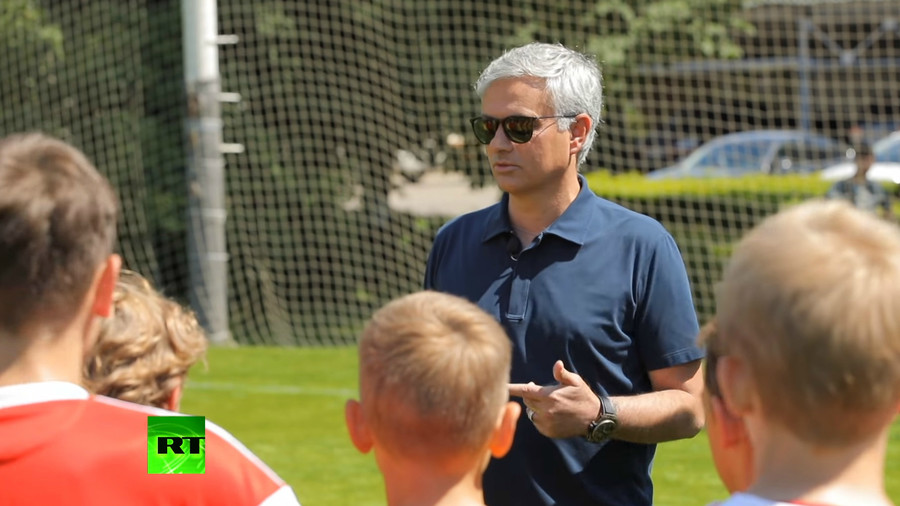 "I hope with kids like you, with coaches like him, with facilities like this, with the passion that the Russian people have for football, what the World Cup can change in terms of that mentality, in eight years, the World Cup in the US, Mexico, Canada, that can be a target for the Russian national team to improve," he said.
"Let's make a challenge, sometimes a challenge or dreams they become a reality one day, so let's say in the next 12 years, I coach the Russian national team, and some of them they play for me. Deal?" he told the delighted youngsters.
And what better motivation for them to play under someone as distinguished as one of football's all-time greats?