The lava was not travelling more than a «few tens of yards» from the vents, which were on streets in the Leilani Estates neighbourhood near Big Island's eastern tip, the USGS said.
However ground deformation was continuing and there was high earthquake activity in the area, it said. Meanwhile the level of the lava lake inside the volcano was continuing to drop.
Two homes had been destroyed in the latest activity, ABC quoted Hawaii island Mayor Harry Kim as saying.
Residents described fleeing their homes on Thursday evening.
«My family is safe, the rest of the stuff can be replaced. When I bought here 14 years [ago], I knew that this day would eventually come. But the reality is sinking in now,» one resident told Hawaii News Now.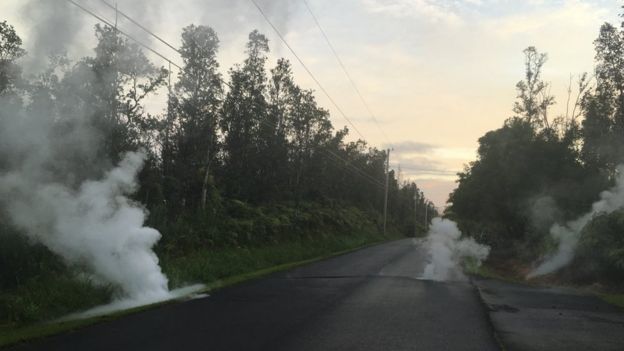 Thursday's eruption prompted a local state of emergency and the mandatory evacuation of 1,700 residents.
Community centres have been opened to provide shelter for evacuees.
Kilauea is one of the world's most active volcanoes and the eruption follows a series of recent earthquakes.
Officials had been warning residents all week they should be prepared to evacuate as an eruption would give little warning.
A volcanic crater vent – known as Puu Oo – collapsed earlier this week, sending lava down the mountain's slopes towards populated areas.
Hawaii's Governor, David Ige, said he had activated military reservists from the National Guard to help evacuate thousands of people.
'Like someone playing the bass really heavy'
Maija Stenback, eyewitness
We live in Leilani Estates, about six blocks away from the eruption.
We were evacuated a couple of hours ago and we are now with friends.
Within about half an hour of the eruption, it was on social media, so me and my daughter went down to look at it. You could hear and feel the eruption a good half a mile away, and the closer you got, the more you could feel it.
It was like when someone plays the bass really heavy, and you can feel the bass – you could really feel the power and the lava – the colour was unbelievable, and the sound was unbelievable.
It sounds very explosive… It's spitting out as hard as it can. It's not so much what you hear, it's what you feel.
bbc.com

cript async src="https://pagead2.googlesyndication.com/pagead/js/adsbygoogle.js">