A 53-year-old man has been attacked outside Anfield before Liverpool's Champions League semi-final match with Roma.
The victim is being treated for his injuries after the attack happened outside the Albert pub in Walton Breck Road at about 19:35 BST, police said.
There were clashes between Liverpool and Roma supporters shortly before kick-off.
A man has been arrested following the assault and he is in police custody.
About 80 Roma fans are thought to have used a side road to reach an area populated by Liverpool supporters.
One supporter was seen motionless on the road and BBC Sport footage showed another fan carrying a hammer.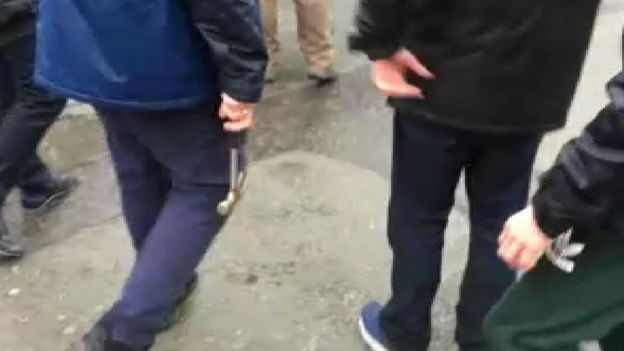 Trouble broke out behind the Kop End, with reports of Roma supporters attacking home fans.
BBC Sport News correspondent David Ornstein said the pre-match trouble started when a "group of Roma fans arrived via Venmore Street, burst on to Walton Breck Road and attacked, many using belts".
He said a Liverpool fan was knocked to the floor and received lengthy medical treatment.
He added that there were "skirmishes, projectiles" and at least one person had "a hammer".
Sunday Times football correspondent Jonathan Northcroft tweeted that the "attack was sudden", adding that the "Roma group were chased down the street before police arrived".
Police are appealing for anyone with video footage or information to contact them.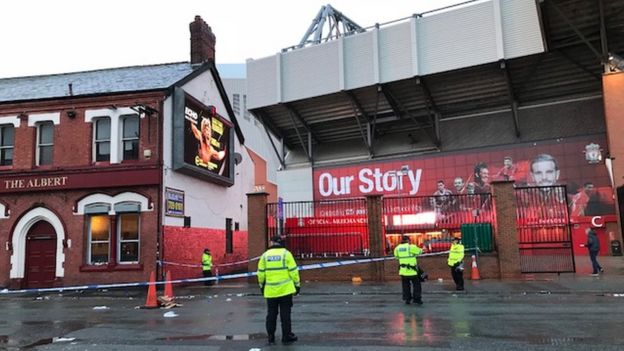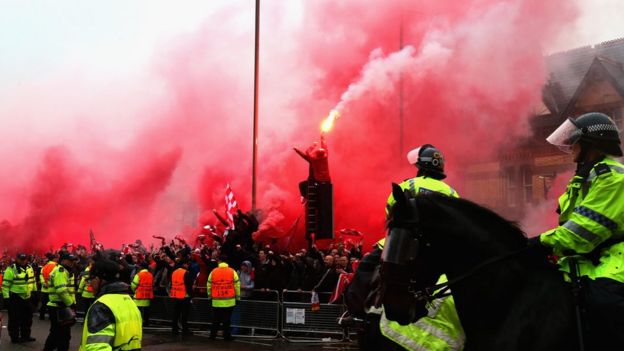 There was an increased police presence around the stadium after Manchester City's team bus was attacked before their Champions League quarter-final with Liverpool earlier this month.
Liverpool were charged by European football's governing body Uefa for throwing cans, bottles and flares at the bus.
Roma supporters have been involved in violent attacks against English fans before – several Tottenham supporters were injured in Rome in 2012.
bbc.com