The hype surrounding baseball sensation Shohei Ohtani, arguably one of Japan's most promising young athletes for generations, has been building for years.
Last week saw his first big test in the North American Major League (MLB) and he more than lived up to it.
Before he even went to the Los Angeles Angels, Ohtani had been called «the greatest thing to happen to baseball in a century» and a «modern day Babe Ruth».
The headlines coming out of the US following a game on Sunday night show that even the US media are beginning to come on board, with talk of an «unreal» start, an «insane» achievement and some conjecture that «Shohei Ohtani is very clearly not from this planet».
Ohtani is a rare example in baseball of a top class all-rounder. Able to both bat and pitch, he's called a two-wayer.
So what has he actually achieved? Well, it was more than Babe Ruth did in his first two weeks, that's for sure – but here are some highlights:
Ohtani is only the third player in history to get two pitching wins and three home runs in the first 10 games for his team
Pitching his second game, he forced 12 strikeouts, equalling an American League record for a pitcher in one of his first two games
He is only the third player ever to hit a home run in three consecutive games and pitch a game with more than 10 strikeouts in the same season. One of the others was Babe Ruth
Japan has the second biggest baseball league outside the US, so it is no surprise that it has produced a player of this calibre. Ohtani's family background also counts.
According to one report that tracked the nascent career of the young athlete, his father, Toru, was an avid player and encouraged his children to play catch when he'd return home from the Mitsubishi plant where he worked.
In his high school in northern Iwate prefecture, Ohtani threw the fastest pitch ever recorded by a Japanese high school pitcher, at 160 km/h (99 mph).
He initially wanted to enter the MLB directly from high school rather play in Japan's professional league. But Hokkaido Nippon-Ham Fighters won out in the end, after lengthy negotiations.
Their final presentation to the young player was called: «Shohei Ohtani: The Way to Dream» and set out the plan to make him a two-wayer.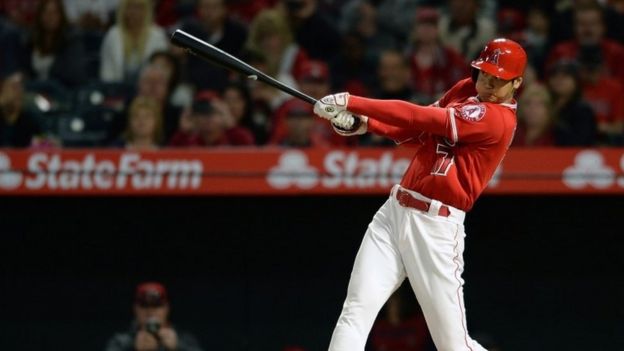 He had his fair share of record-setting in Japan, becoming in 2014 the first player to both remove 10 batters and record 10 or more home runs in a season. Nobody has broken that record.
Now the player, seen in Japan as a quiet but effective presence on the pitch, is proving his mettle on American soil.
If US sports commentators have been left rubbing their eyes in disbelief – after all Ohtani had not performed well in spring training – the Japanese public has also been euphoric.
The well-known Japanese manga artist Tsunomaru, tweeted: «No, No Ohtani. My editor will not accept such a great story. It should be more realistic.»
Another Twitter user said «we are witnessing a kind of myth», while another said the «MLB has been given a harsh lesson by Ohtani».
The Japanese media have been no less enthusiastic, calling his first two weeks in the Major League an example of «shockingly perfect pitching» and noting how US media had been left stunned.
Both sides of the Pacific are watching to see if he can do more.
bbc.com