Fighting continued in the rebel-held Eastern Ghouta area of Syria during the first daily five-hour "pause" ordered by the government's ally Russia.
Activists said there were government air and artillery strikes, while Russia said rebels had shelled a "humanitarian corridor" meant to let civilians leave.
As a result, there were no UN aid deliveries or medical evacuations.
Some 393,000 people are trapped in the enclave near Damascus, which has been besieged by the government since 2013.
Medics say more than 500 people have been killed since the government intensified its bombardment nine days ago in an attempt to retake the enclave.
At least six civilians were killed on Tuesday, the UK-based Syrian Observatory for Human Rights (SOHR) said – two of them during the five-hour ceasefire window.
Russia's defence ministry, meanwhile, said rebels in the Eastern Ghouta "went on the offensive" during the pause, including attacking government positions in two settlements.
As the truce broke down, France and Britain urged Russia to use its influence over Syrian President Bashar al-Assad to secure a 30-day ceasefire covering the whole country, as demanded by the UN Security Council on Saturday.
"Russia is one of the only actors that can get the regime to implement the resolution," French Foreign Minister Jean-Yves Le Drian told his Russian counterpart Sergei Lavrov in Moscow. UK Minister of State for Europe and the Americas Sir Alan Duncan gave a similar message to the Russian ambassador in London.
What is happening on the ground?
Fighting was reported by monitors including the UN after the Russian-ordered pause began at 09:00 (07:00 GMT) on Tuesday.
The situation meant that humanitarian convoys could not go in, and medical evacuees could not come out, UN officials said.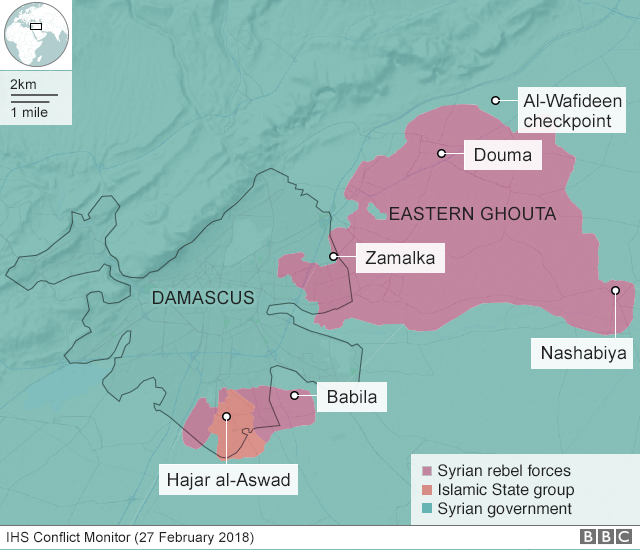 The World Health Organization said it had a list of more than 1,000 critically sick and wounded people who urgently needed to be evacuated.
The situation in the Eastern Ghouta was comparatively calm early on Tuesday. However, a man was killed by shellfire in the rebel-held town of Douma before the pause started, according to SOHR.
The monitoring group also reported a number of violations in the five hours that followed, including air strikes by government planes and helicopters, and artillery shelling in the town of Jisrin that killed two people, including a child. Another child was reported to have been killed in Misraba after the truce ended.
The Syrian state news agency, Sana, reported that "terrorists" had shelled the route of the humanitarian corridor leading to the government-controlled al-Wafideen checkpoint, which is north-east of Douma, and were using "human shields".