A huge rescue effort is under way after a powerful earthquake struck Iran's mountainous border with Iraq, killing more than 400 people and injuring more than 7,000.
Teams are looking for survivors trapped in the rubble of collapsed buildings.
The quake is the deadliest in the world this year.
Most people who died were in western Iran in Sarpol-e-Zahab, a town 15km (10 miles) from the border, and other parts of Kermanshah province.
The town's main hospital was severely damaged, leaving it struggling to treat hundreds of wounded people, state TV reported.
A woman and her baby were pulled alive from rubble in the town, Iranian media said.
Many buildings in the town appear to have collapsed, amateur video posted to Twitter by a radio station showed.
Running water and electricity cut out in some cities, and after buildings collapsed people were forced to spend hours outdoors in parks or streets in cold weather.
Many homes in the predominantly Kurdish mountainous area are made of mud bricks and are vulnerable in quakes as large as Sunday's.
"We need shelter," a man in Sarpol-e Zahab told state TV. "Where is the aid? Where is the help?"
One aid agency said 70,000 people needed shelter after the quake, and there were reports that thousands of people were facing a second night in the cold as dusk fell.
The UN said it was "ready to assist if required" in a statement from a spokesman for the secretary-general.
Iranian officials said 413 people had died in the country. Some soldiers and border guards were among the dead, the Iranian army's commander-in-chief told the state news channel IRINN.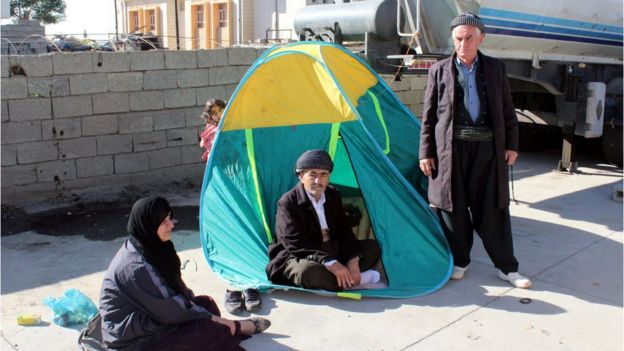 In Iraq nine people died, a Red Crescent spokesman told the BBC. A UN office in the country said more than 500 people were injured there, and the earthquake was felt in Irbil, Sulaimaniya, Kirkuk and Basra as well as the capital, Baghdad.
Landslides have made it harder for rescuers to reach those affected in rural areas, and there are fears a dam could burst after it was damaged by the earthquake. People living nearby have reportedly been asked to leave.