Winning football matches tends to be about scoring goals.
They can come from anywhere – long range or short, 40 yards or two yards, sometimes the 12 yards of the penalty spot. Or not, if you happen to be Liverpool.
For a goal to be scored, someone has usually done the hard yards beforehand. The creator. The common consensus is that Kevin de Bruyne is the Premier League's king of creating chances, but there is a pretender to the throne.
To hit the back of the net, you're probably going to make an attempt on goal. Someone needs to tell Swansea City.
All this and more is revealed in the best of the statistics from the weekend's Premier League action.
Ozil v De Bruyne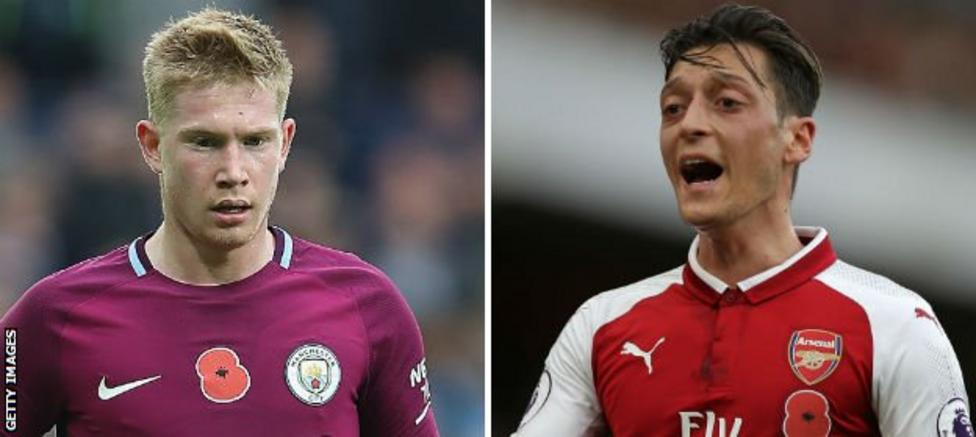 De Bruyne (left) has won a Belgian title with Genk while Ozil won La Liga with Real Madrid. Neither has lifted the Premier League
One is apparently such a shoo-in for PFA Player of the Year that the wife of a former player at his club has felt confident enough to bet a naked conga around a Stockport car park on the result of the poll.
By contrast, the other has been roundly criticised by his club's old boys in the media.
But how much difference is there between Manchester City's De Bruyne and Arsenal's Ozil?
The pair have both created a league-leading 30 chances for their teams, despite Ozil having spent considerably less time on the pitch.
Fewer of the chances that Ozil has created have been converted by his Arsenal team-mates, but otherwise the Germany playmaker stacks up well against De Bruyne in the pair's attacking stats.
But Ozil's work without the ball does not stand up to comparison as well.
Even considering the longer time that De Bruyne has spent on the pitch, the City attacker has got more involved in his side's defensive duties.
bbc.com