Parts of California's wine region are being ravaged by fast-spreading fires, destroying hundreds of homes and forcing mass evacuations.
About 20,000 people have fled from Napa, Sonoma and Yuba counties after fires broke out across the area renown for its vineyards.
At least one person has died and two others have been seriously injured.
The governor of California declared an emergency as fire-fighters battled to control the wild blazes.
"These fires have destroyed structures and continue to threaten thousands of homes, necessitating the evacuation of thousands of residents," the declaration said.
The head of California's Department of Forestry and Fire Protection, Kim Pimlott, said that about 1,500 buildings had already been destroyed.
It is not yet known how the fires started on Sunday night.
Napa County's fire chief warned that conditions were hindering fire-fighting efforts, as further resources were brought in from across the state.
One person died in Mendocino County when thousands of acres burned in one valley. Further injuries have been reported and others are said to be missing.
Dozens of vineyard workers were reportedly airlifted to safety overnight.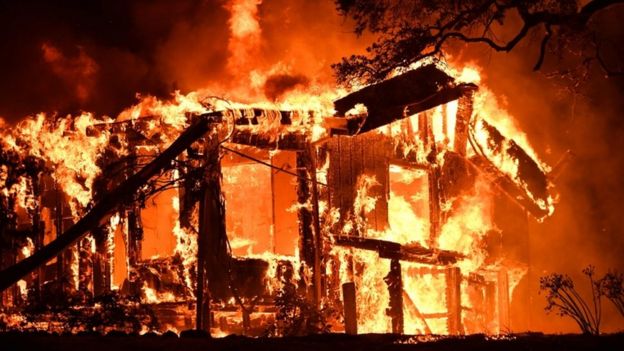 The fires are particularly fast-spreading because of the combination of high winds, low humidity and hot, dry weather.
The National Weather Service has issued a warning for the San Francisco area that "any fires that develop will likely spread rapidly".
One vineyard owner told the LA Times that he thought his property was likely destroyed after he and his family escaped from a fire late on Sunday night.
"There was no wind, then there would be a rush of wind and it would stop. Then there would be another gust from a different direction. The flames wrapped around us," Ken Moholt-Siebert said.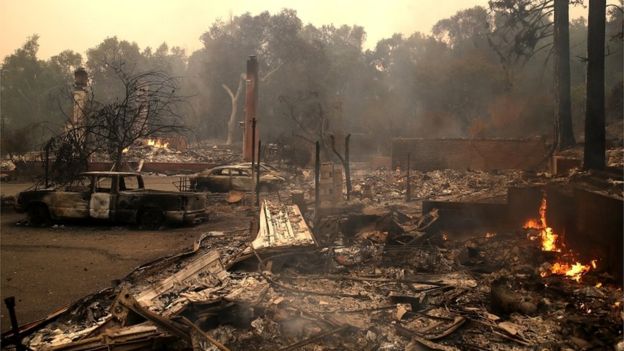 "I was just being pelted with all this smoke and embers.
"It was just really fast."
The Department of Forestry and Fire Protection website estimates that tens of thousands of acres have already been destroyed in at least 14 fires, making it one of the most destructive outbreaks California has seen.
In September the Californian city of Los Angeles suffered the largest wildfires in its history.
bbc.com