In a pet-owner's worst nightmare, a Canadian woman witnessed her dog getting shot by a hunter in the woods.
Vale Calderoni says the hunter must have mistaken Kaoru, a four-year-old Tamaskan dog, for a wolf.
The owner of a dog rehabilitation centre in Squamish, British Columbia, Ms Calderoni was walking a pack of canines in the woods on Monday.
Ms Calderoni had trained Kaoru to be a therapy dog for autistic children with people with special needs.
«Today my dog, my partner, was killed at point blank,» she wrote in a post on Facebook.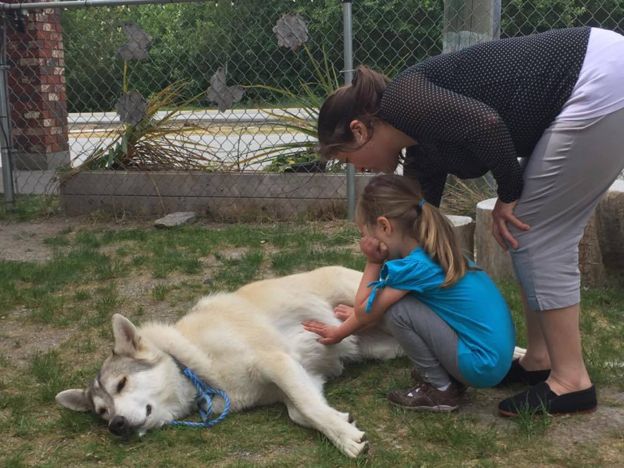 On Monday, Ms Calderoni and another dog trainer took a pack of about 10 dogs for a hike in the woods near Whistler.
While she was walking two other dogs on leash, she heard a shot and then a cry of pain from Kaoru, who was named after a Japanese hero.
«She screamed, and looked at her wound with disbelief and then looked at me with the absolute feeling of betrayal,» she wrote.
«I ran towards her as she stumbled down the road where she collapsed. I tried to save her, I held her, I just knew it was not good.
«I did not want her to suffer, and I told her 'just go, just let go baby girl'.»
She said she is flabbergasted a hunter thought it was a good idea to shoot what he thought was a wolf with so many other dogs and people around.
«We could have died,» she wrote. «I hike in that location with kids all the time, could you imagine if a child had to experience that or worse if he had hit a child?»
Since the accident, Ms Calderoni has raised almost C$9,000 ($7,300; £5,400) to campaign against hunting in the forest near Squamish and Whistler, and to end wolf-hunting.
British Columbia police told local newspaper the Squamish Chief that there is a police file on the incident, but that the BC Conservation Officer Service is handling the investigation.
Conservation officer Kent Popjes told the chief the hunter is co-operating fully and the investigation is ongoing.
Hunters are allowed to kill wolves in the Lower Mainland region after 10 September, with some restrictions.
bbc.com

cript async src="https://pagead2.googlesyndication.com/pagead/js/adsbygoogle.js">