Haiti and the Turks and Caicos islands have been preparing for the arrival of Hurricane Irma, which has left a trail of destruction across the Caribbean.
Poverty-stricken Haiti is seen as particularly vulnerable as its infrastructure has yet to recover from a devastating earthquake in 2010.
Low-lying Turks and Caicos is said to be at risk of a storm surge, with the possibility of destructive waves up to 6m (20ft) higher than usual.
Irma is a category five hurricane.
This is the highest possible level for a hurricane, and its winds are travelling at up to 185mph (290km/h). At least 10 people have already died in the region.
The small island of Barbuda is said to be "barely habitable". Officials warn that St Martin is almost destroyed, and the death toll is likely to rise.
Irma has passed the Dominican Republic and is now brushing Haiti. It is expected to hit the the Turks and Caicos on Thursday evening.
It is predicted to reach Cuba next, before hitting the US state of Florida at the weekend, with the head of the US emergency agency predicting a "truly devastating" impact.
An estimated 1.2 million people have been affected by Irma and that could rise sharply to 26 million, the Red Cross says.
"Our worst fears have played out in Barbuda and elsewhere," Walter Cotte, Americas director for the International Federation of Red Cross and Red Crescent Societies, said in a statement.
There are concerns that disease could spread rapidly in areas where drinking water and sanitation services have broken down.
The storm caused some damage to building and flooding as it approached Haiti, with rain and wind lashing the northern port city of Cap-Haitien.
"We're asking all those living in areas at risk to leave their homes. If you don't, you'll be evacuated by force," President Jovenel Moise said.
"When you go to shelters you'll find food, you'll have something to sleep on."
Preparations for the arrival of Irma are carrying on in the Turks and Caicos, which has a population of about 35,000. Its highest point is only 50m (163ft).
Governor John Freeman said: "We have decided to evacuate certain islands which were particularly low-lying and at threat. We have started to fill our shelters because a number of people who live in very low-lying areas are very vulnerable.
"We've also engaged in terms of getting people off the island who are here, North American tourists and others. "
Virginia Clerveaux, director of the Turks and Caicos Department of Disaster Management and Emergencies, told the BBC that even inland areas could be inundated by the storm surge.
"We are now trying to remind them [the people of the islands] that this is a category five, and in the history of the Turks and Caicos islands this is the largest storm we have ever been impacted or threatened by.
"So there is a need to ensure that we have maximum preparations in place… We have been saying to persons to ensure that they are prepared, ensure they can shelter safely, they have sufficient food and drinking water for two to three days."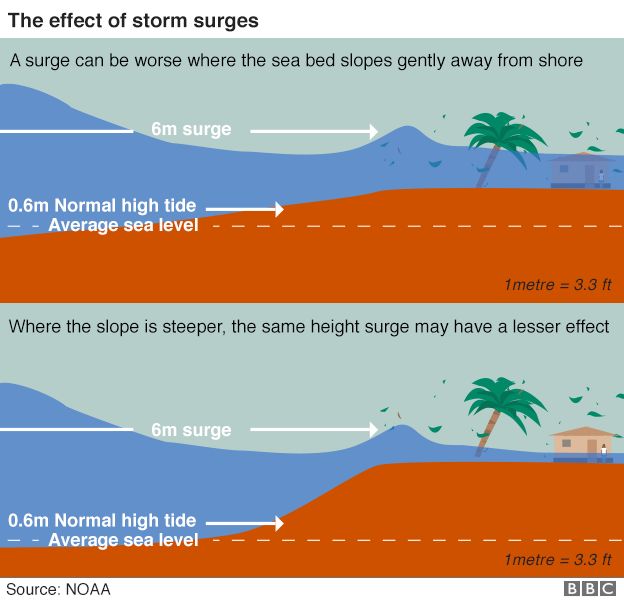 Britain, France, and the Netherlands have sent ships, rescue teams and emergency supplies to their territories that have been hit by Hurricane Irma.
Which are the worst-hit areas?
Hurricane Irma first struck the dual-island nation of Antigua and Barbuda. At least one death, of a child, was reported on Barbuda, where Prime Minister Gaston Browne said about 95% of the buildings had suffered some damage.
"It's absolute devastation," he said after flying over the island, home to some 1,600 people. "The island is literally under water. In fact, I'm of the view that, as it stands now, Barbuda is barely habitable."
He told the BBC that 50% of the Barbuda population were now homeless and that it would cost $100m (£80m) to rebuild the island.
However, Antigua, with a population of 80,000, escaped major damage, with no loss of life.