The two frontrunners in France's presidential election have staged rival rallies to win over undecided voters, a week before the first round of voting.
Marine Le Pen, the far-right leader of the National Front, said in Paris the choice was between her rivals' "savage globalisation" and her patriotism.
Also campaigning in the capital, centrist Emmanuel Macron said "our generation is ready for change".
Opinion polls predict the two will reach the second round on 7 May.
Mr Macron would be a favourite to win in the run-off, they suggest.
But at the same time, the polls suggest the race is tightening.
Conservative Francois Fillon, who has been embroiled in corruption allegations, and hard-left Jean-Luc Melenchon are also in contention for the top two spots in the vote on 23 April.
Mr Melenchon also campaigned on Monday, choosing a barge on a Paris canal to rally his supporters.
In all, 11 candidates are competing in the first round.
About one in four French voters are still undecided, opinion polls suggest, making it one of the most unpredictable elections in decades.
Addressing her supporters at the Zenith concert hall, Ms Le Pen said: "The choice on Sunday is simple: it is a choice between a France that is rising again and a France that is sinking."
"Give us France back, for God's sake," said Ms Le Pen, who wants France to leave the European Union and curtail immigration.
Outside the venue, dozens of protesters, had sought to disrupt her rally, clashed with police.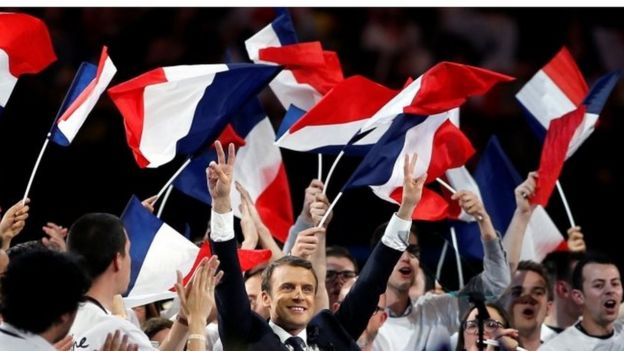 Meanwhile, Mr Macron chose the Bercy national indoor arena for his rally.
"We are going to turn the page on the last 20 years because our generation is ready for change," he said.
On the issue of France's role in the EU, he said: "We need Europe, so we will remake it. I will be the president of the awakening of our European ambitions."
Mr Macron, a former investment banker, is running for his self-created En Marche (Onwards) party.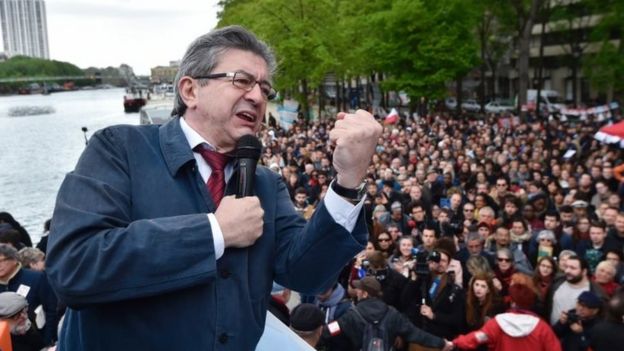 Speaking from his campaign barge, Mr Melenchon told his cheering supporters: "Here you are on an Easter Monday listening to a guy on a boat. There's something in the air!"
Mr Melenchon's ratings are thought to have been buoyed by recent televised debates.
bbc.com