Music and entertainment celebrities from around the world have been reacting to the news that British singer George Michael has died aged 53.
Sir Elton John
«I am in deep shock. I have lost a beloved friend – the kindest, most generous soul and a brilliant artist. My heart goes out to his family and all of his fans. @GeorgeMichael #RIP»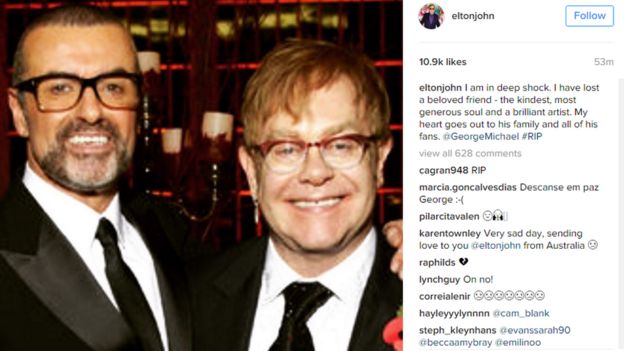 Wham! bandmate Andrew Ridgeley
«Me, his loved ones, his friends, the world of music, the world at large. 4ever loved. A xx»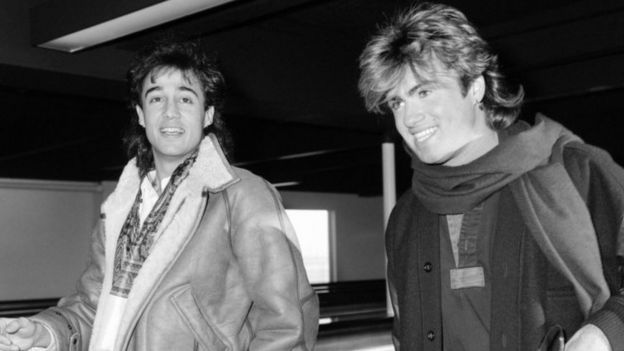 Madonna
«Another Great Artist leaves us.»
Boy George
«I am thinking of @GeorgeMichael's family, friends and fans right now.
«He was so loved and I hope he knew it because the sadness today is beyond words. Devastating.
«What a beautiful voice he had and his music will live on as a testament to his talent. I can't believe he is gone. I hope the Buddha will hold him in his arms.»
Robbie Williams

James Corden
The Late Late Show host, whose regular Carpool Karaoke slot began when he did it with George Michael for Comic Relief in 2011, said: «I've loved George Michael for as long as I can remember. He was an absolute inspiration. Always ahead of his time.»
Lisa Stansfield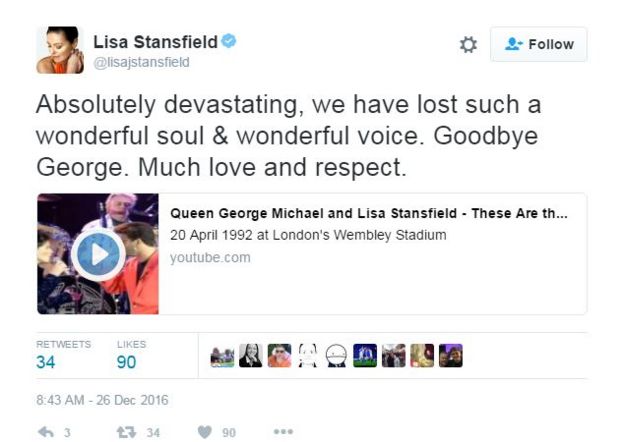 Paul Young
Singer Paul Young, who performed on the 1984 Band Aid hit Do They Know it's Christmas? with Michael, told BBC Radio 5 live that audiences «connected» with his voice.
He spoke about the time Michael joined him on stage for a Princes Trust Concert to do a duet on Young's hit Every Time You go Away.
«He was literally straight out of the car, a quick chat on stage, no warm-ups or anything, and he just sang like a bird. Unbelievable really.»
Matt Goss, Bros singer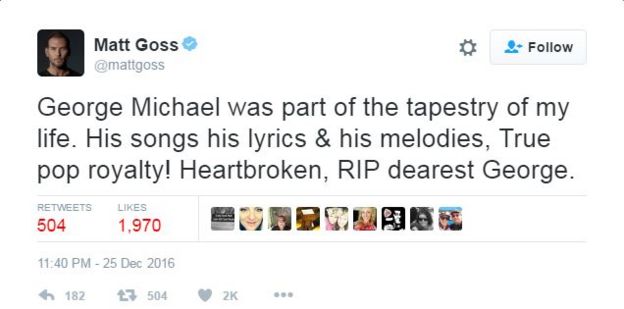 Ringo Starr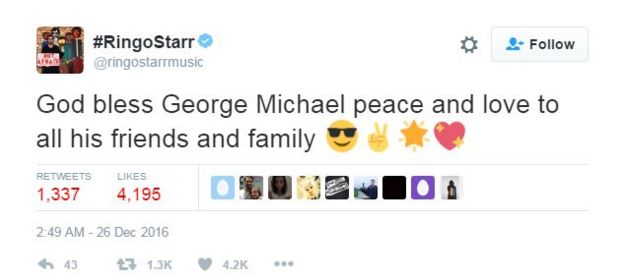 Liam Gallagher

Duran Duran
«2016 – loss of another talented soul. All our love and sympathy to @GeorgeMichael's family.»
Sam Smith
Brit and Oscar-winning singer-songwriter Sam Smith wrote: «@GeorgeMichael. Words can't express how much you and your music meant and means to me.
«Please play his music as loud as you can today & celebrate one of the most magical, talented, bravest & important figures in music & life as I know it. Your music & message will live on.»
Smith added: «I would not be the artist I am if it wasn't for you.»
Miley Cyrus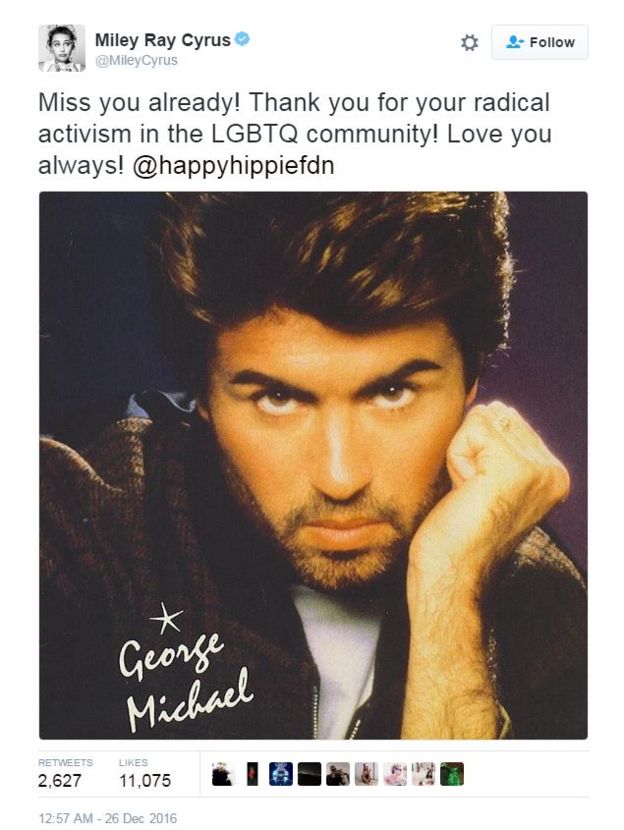 Pointless co-host and former TV producer Richard Osman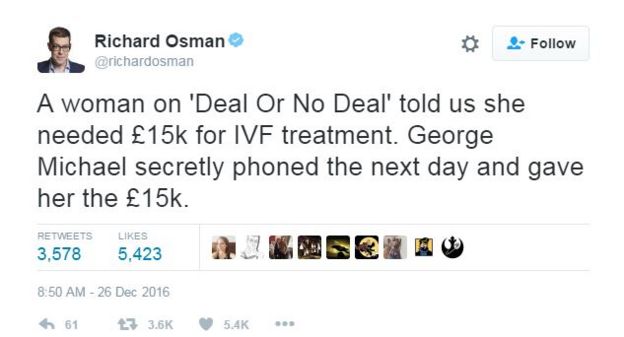 Chaka Khan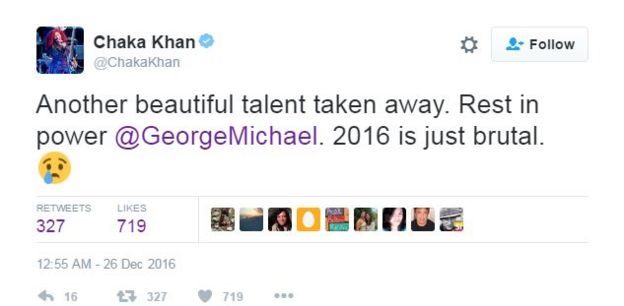 Spandau Ballet
«We are incredibly sad at the passing of our dear friend George Michael. A brilliant artist & great songwriter.»
Bryan Adams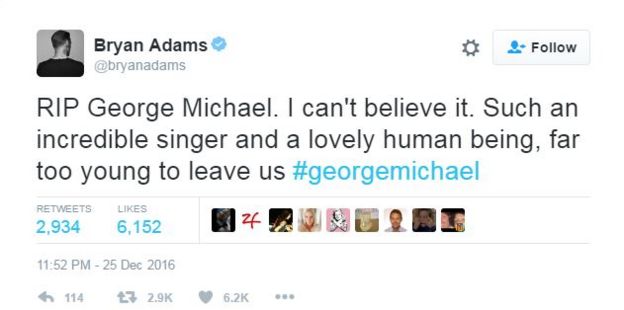 Geri Horner (nee Halliwell)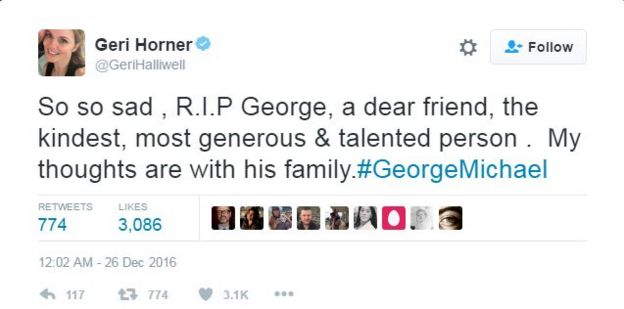 Former X Factor winner Joe McElderr
McElderry, who performed Don't Let the Sun Go Down on Me with Michael on his way to winning X Factor in 2009, said: «So sad to hear about George Michael!
«I was so lucky to have met him and even luckier to perform with him what a lovely man he was!»
Simon Cowell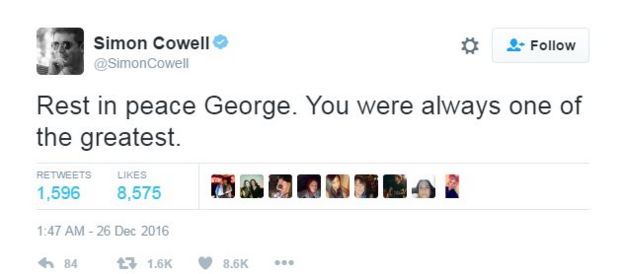 ---
Belinda Carlisle
«Absolutely devastated about George Michael.»
Frankie Goes to Hollywood singer Holly Johnson
«Sad to hear the news about George Michael , and so many great singers and songwriters we lost this year.»
Brian Wilson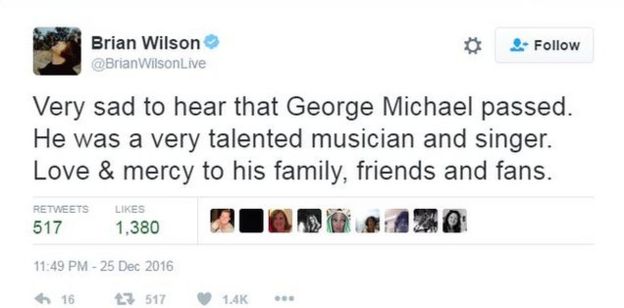 Simply Red

Singer Alison Moyet, who, like Michael, performed at Live Aid in 1985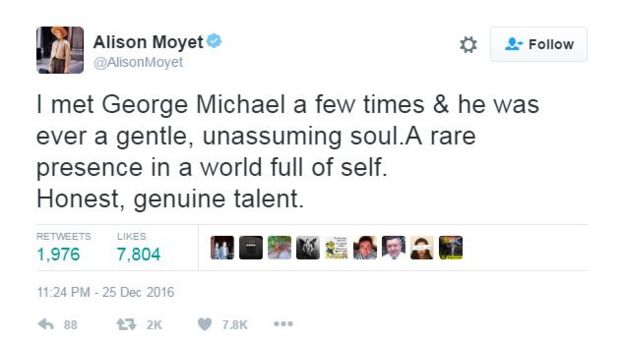 London Mayor Sadiq Khan
«Very sad to hear the news about George Michael. An incredible talent who brought joy to millions of us with his music.»
Labour leader Jeremy Corbyn
«Sad to hear that George Michael has died. He was an exceptional artist and a strong supporter of LGBT and workers' rights.»
Scottish First Minister Nicola Sturgeon
«This is just too awful. Such an amazing talent gone too soon. Wham was part of the soundtrack to my teenage years.»
LGBT equality charity Stonewall
«R.I.P. George Michael. You inspired many and your music will live on in the hearts of the community. You will be sorely missed x.»
Pixie Lott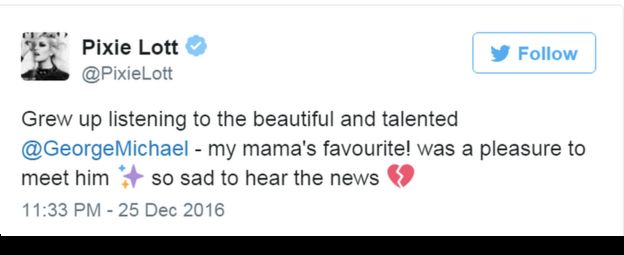 Pop star La Roux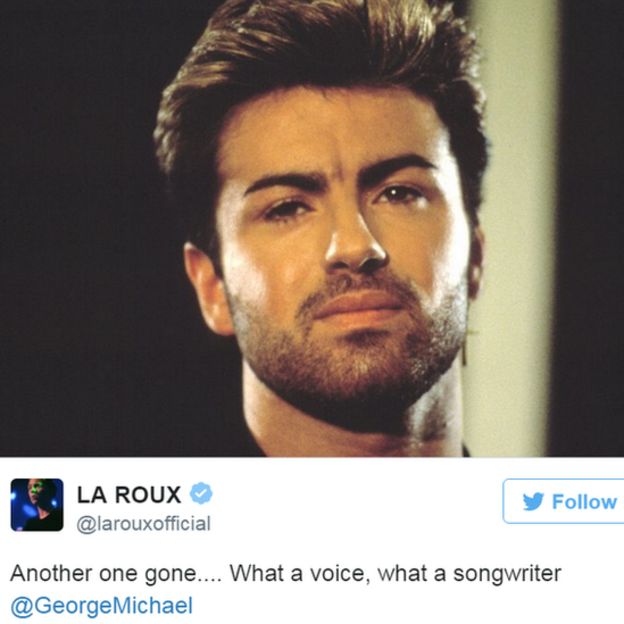 DJ and musician Mark Ronson
«This is a tough day in a brutal year. but i'm so grateful for what he left us»
bbc.com

cript async src="https://pagead2.googlesyndication.com/pagead/js/adsbygoogle.js">